The eyes are the windows to the soul. They hold a gaze and are the first thing people see when looking at our face. It is also the first place we notice the signs of aging. Thinning skin, sun damage and facial expressions take their toll on the delicate eye area. Dark circles appear and eyeshadow disappears as sagging skin droops over the lid. Crow's feet and laugh lines appear and stay there even if we're not laughing! But aging eyes are nothing to cry about. Rejuvenating the eye area is relatively simple and most importantly, addressing the eye area first results in a more youthful appearance for the entire face.
Although blepharoplasty (eyelid lift) is a common surgical solution to the aging eye area, non-surgical options are discussed here.
Dark circles under the eyes can make you look tired and worn out or worse, unhealthy. As the skin in the eye area thins with age, blood vessels beneath the surface show through creating the illusion of dark circles. In some cases the dark circles are simply shadows caused by a hollowing of the area above the cheeks (tear troughs). One way of masking this appearance is with the injection of hyaluronic acid to plump the area and provide better support for the undereye skin. Restylane and Juvederm are two most commonly used products to achieve this. Both products are affordable, effective for approximately 8-12 months and can be performed in a single office visit. A patient's own fat can also be injected into the tear trough hollows for a more permanent correction.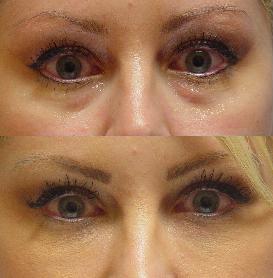 Hooded and sagging eyelids can be tweaked with a little Dysport or Botox injected to simulate a mini-browlift and raise the lids. Although a temporary fix lasting 4-5 months, both products are moderately priced and well tolerated by all patients. Dysport or Botox can also be injected into the crow's feet area to minimize the muscle movement and allow crow's feet wrinkles to relax and fade.
Wrinkled, crepey and sagging eye area skin can be improved with laser. Using fractionalized CO2 (carbon dioxide) laser, such as Lumenis Total FX, the delicate eyelid skin can be resurfaced to erase existing lines, improve texture and add a few degrees of tightening to lift the lid without surgery (see below). The CO2 Total FX offers results with only one treatment and can be performed specifically for the eye area at a fraction of the full face price.
Gaze into your own eyes and see the possibility of a new reflection. Younger, happier and natural looking with the help of a few non-surgical eye-openers. Visit www.facebook.com/ChangesPlasticSurgery or www.changesplasticsurgery.com for more information and pricing on non-surgical facial rejuvenation.